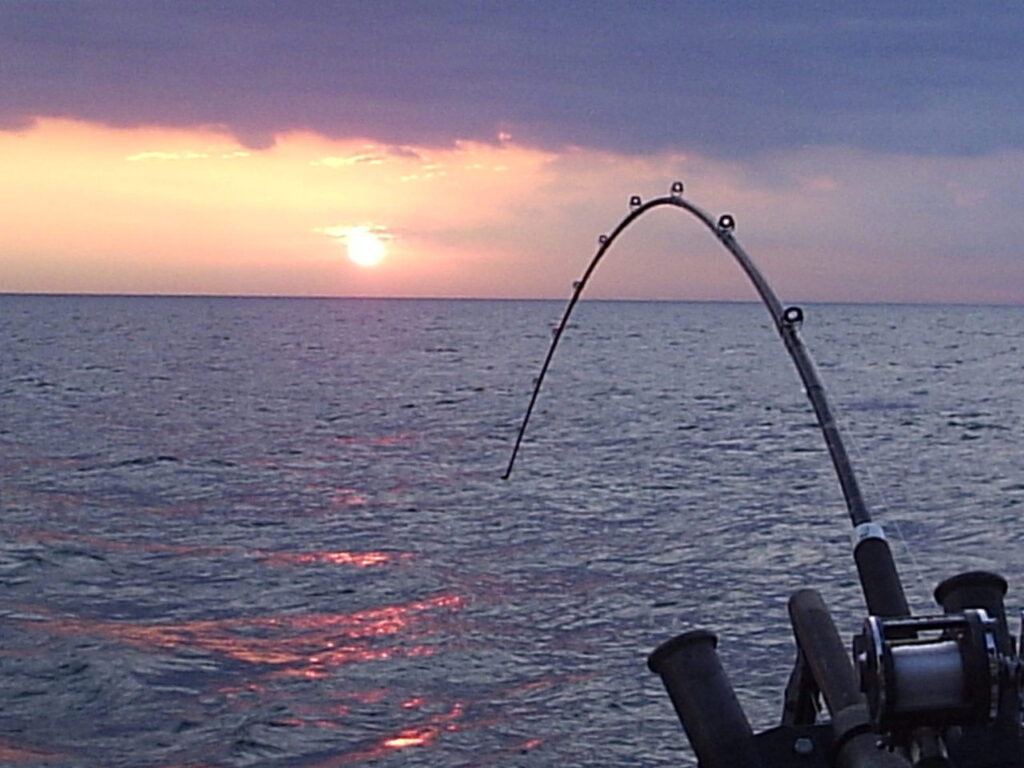 There are a wide variety of heavy-duty big game spinning reels that can cost anywhere from $100 to $800.
There are so many options because of the growing popularity of jigging popping and the overall increase in saltwater fishing enthusiasts.
If you're a serious angler aiming to put some bluefin on the deck off the coast of North Carolina you're going to need a high-quality saltwater spinning reel that can perform under the toughest of conditions.
These saltwater fishing reels are going to be bigger and stronger to withstand the abuse. So we put together a list of our top recommendations that won't let you down.
Penn Battle II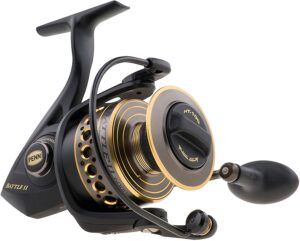 The Penn Battle II is a great looking real with a butter-smooth HT-100 drag which helps to make this reel a favorite among anglers.
The Battle II comes with five sealed stainless steel ball bearings, an instant anti-reverse bearing, and features a full metal body side plate and rotor.
This reel is smooth and impeccably balanced, able to handle some of the larger species found off the Gulf coast like snapper, amberjack, and king.
The Penn Battle II is extremely strong and reliable real with exceptionally fine combat breaks and a lightweight ergonomic handle.
The Battle II will prove to you on your first trip out why so many anglers love the Penn fishing experience.
Click Here to Buy Penn Battle II
Shimano Baitrunner 8000d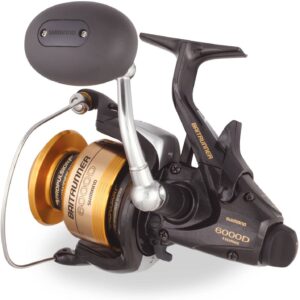 The Baitrunner gives you the confidence of this legendary drivetrain with an auto-return Baitrunner feature for better castability.
The Baitrunner feature lets you live line or drift bait with a light drag the tension on the system is independent of the main drag and is controlled by a knob at the back of the reel.
The Shimano Baitrunners are head and shoulders above pretty much every other Baitrunner reel out there. You definitely get what you pay for with this reel.
The quality shows through in the construction. The 8000 d is built to resist sand and saltwater corrosion due to its graphite construction. The anti-rust bearings and the aluminum forge spool can handle years of abuse.
The Shimano Baitrunner is the top of the class. You have to pay for that quality, but it's worth it.
Click Here to Buy Shimano Baitrunner 8000d
Daiwa BG Spinning Reel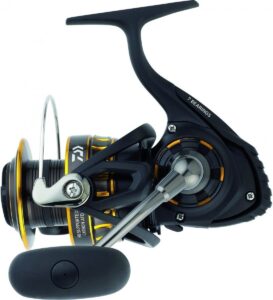 The Daiwa BG spinning reel has a waterproof 33 lb. drag system designed for more aggressive fish.
This latest edition of the popular BG series is built tougher than ever before.
The Daiwa BG is built with a machined aluminum body providing strength and internal part stability. The aluminum will not chip or peel and gives a polished look to the BG spinning line.
This reel is very smooth and durable. It still performs strongly with just rinsing it. While the BG is a bit heavier it is tough and designed to handle abuse and outperforms reels that cost twice as much.
A strong frame, smooth, powerful, with a tough drag. Paired with braid you have a seriously capable lightweight outfit that can handle bull drum Time after Time.
This day will be g offers exceptional versatility for small to large species.
Click Here to Buy Daiwa BG2500 BG Saltwater Spinning Reel
Penn Slammer III Spinning Reel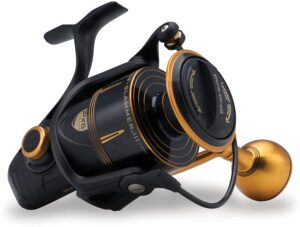 You're going to want to put the Penn Slammer III on a stronger rod. It's designed for heavy-duty fishing from either your boat or the shore and it's trusted by charter captains the world over.
The Slammer III features the new IPX6 sealed system which keeps water out of the gearbox and the drag system. This helps to increase the durability and longevity of the reel.
There is almost zero hesitation or stickiness. You can catch everything from big snooks and even hundred-pound tarpon under bridges with this setup. Very impressive for being a well-sealed reel, the smoothness is still there. This might just be the best reel for the money.
Click Here to Buy Penn Slammer lll Spinning Reel
Shimano Stradic Spinning fishing reel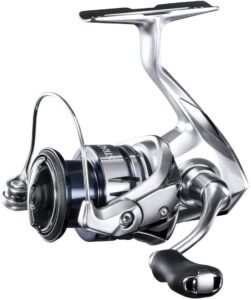 This new updated Stradic is the smoothest version Shimano has made yet. Stradics have always been a workhorse reel and this new version is super solid and will hold up well to fishing and saltwater.
This new Stradic model is the result of continuous refinement. You'll experience rotational smoothness and power transfer never achieved in a reel at this price point.
When you combine micro module gear two with silent drive, which fine-tunes internal components to the highest tolerances possible and you'll see the new Stradic approaches flagship-level performance.
Thankfully Shimano has removed the anti-reverse lever on this new reel. If you fish for speedy fish like bluefin trevally or bonefish you're never really going to find much use for the anti-reverse function on spinning reels. Removing the anti-reverse lever makes this real more watertight. Although it is not 100% waterproof, if it gets submerged it will leak a bit but it does hold up really well when getting splashed by surf while fishing in the break though.
This new version no longer has an oil service porch screw in the side plating. If you want to oil this reel you need to take it apart. This reel should see lots of good years of action just like the older model Stradics.